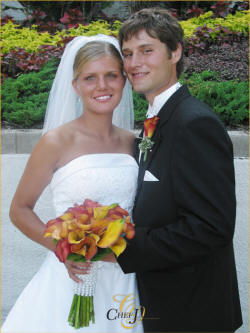 Planning a wedding today has become more about personal style than ever before.
At Chef Jack's we help you create a celebration that is unique to you and your guests.
Many options are available, whether your
reception is a sit-down dinner for 500 at one of Wisconsin's fine halls, or an intimate gathering of 125 under a beautifully decorated tent.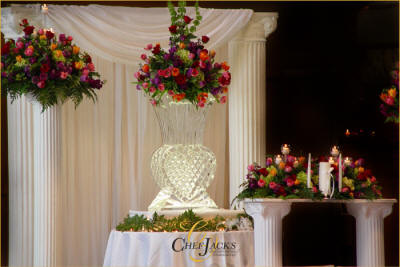 Hosting your reception is more than just choosing your menu.

There are many other decisions that need to be made.

At Chef Jack's we can refer you to wonderful florists, musicians, photographers and any
other services you may require to make your reception truly unique.
Ceremony: Often, the venue you choose can serve as a beautiful setting for a ceremony.

Tents: A tent can transform your favorite outdoor getaway into the perfect setting for a beautiful wedding.

Rentals: Chef Jack's can arrange all the rental items you need, including tenting, tables, chairs, and staging.

Linens: Specialty linens can transform a dining room dramatically. Try a pale yellow reminiscent of the dress you wore on your first date or cabaret table ties that match your bridesmaid dresses.

Extras: Videographers, photographers, florists, and bakers are all a big part of the wedding day. We have worked closely with many of Wisconsin's finest vendors and would be happy to recommend one to you.